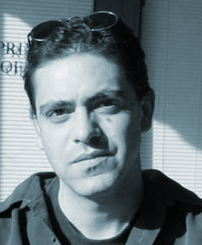 Composer and Pianist Ariel J. Ramos has been working with independent filmmakers since 2000. He is a graduate of Berklee College of Music in Boston.
Born in Montevideo, Uruguay, Ariel Ramos started his career as a pianist. In 1997 he moved to Boston to study at Berklee College of Music. In 2000 he founded DreamTracks, Music for Film and Multimedia. He is now established in Florida composing music for film, TV and chamber music, arranging from small to large ensembles and performing jazz, latin and chamber music in the area.
Contact: film@arieljramos.com
ASCAP member
Link to the IMDB record.
Related websites:

Composition, Theory &
Piano Lessons
AJR Piano Lessons
Backing Tracks Services:
AJRBTStudios.com
Publications and Software:
mDecks Music
Mapping Tonal Harmony Pro by Ariel J Ramos